Celtic double love knots wedding ring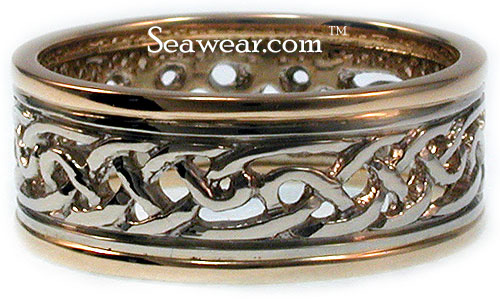 Semi custom Celtic wedding ring where you choose the colors and trim #WSK1718
These wedding rings as shown are 9mm and 8mm, for the basic ring and a medium sized trim. The rings without any trim are 6mm and 5mm. The design is filigree, the pattern is cut around the knots so you can see through the wedding ring.
Your can order band in any combination of color, 14kt or 18kt, platinum, with or without outer bands in different/same color. These rings are sized from the center outwards and not on the leading edge. They will tend to fit snugger than you expect. I recommend being sized with a wide ring sizer so you are not disappointed or if you can, try on 8mm wedding bands.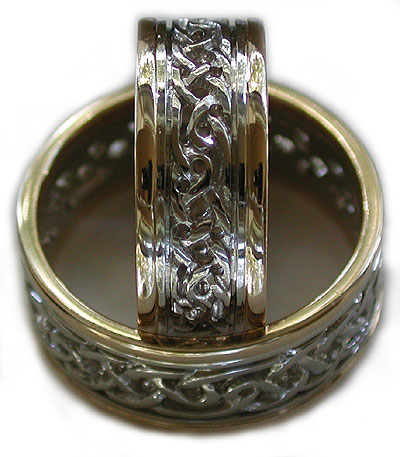 You are actually looking at a band, made up of three rings. The center knot band and the two outer ring edges. They cannot be stretched or resized. If attempted, the seams will fail and there will be three rings instead of one! Be 110% accurate on your sizing. Each ring will be custom made for you in Dublin Ireland. Allow a solid four weeks and 6-8 weeks for platinum.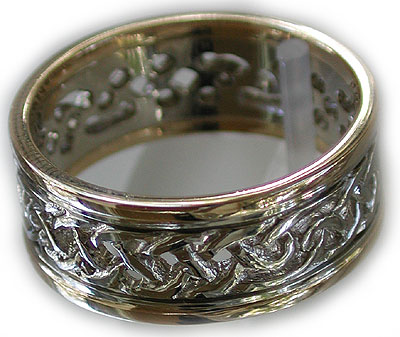 The narrow band can be made in a larger mens size for an additional fee. help give you and idea of cost so you can create your own custom Celtic love knot wedding ring, pricing in the first group is for the knot portion of the band, the second group for the optional outer bands which is actually two more rings. Add, mix and match for your personal choice. The heavy trim is 50% larger all around. It looks phenomenal as the outer trim rings are raised higher than the center knot band. The center knots range from $795 to $995.00 and with the optional trim can range from $1,295 to $1,695.00 Platinum is available by special request and takes 8-12 weeks. The cost is 4-5 times the gold cost so is no longer quoted.
#WSK1718
5mm knots
6mm knots

These Celtic wedding bands were done in all 18kt yellow with 6mm knots and discontinued extra wide trim.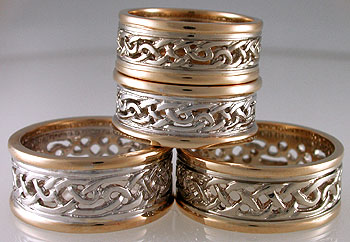 The ring on the middle and the ring on the left have the discontinued heavy trim while the other two bands have the medium
Use your browser's back button to return or close this if it is a new window