Ogham wedding ring
Ogham is the ancient writing language of the Celts. It is found in the old carvings and is a series of lines and angles. The ring below is inscribed with "Gra go Deo" in Gaelic. Which means "Love forever..."
This ring shown is a man's size 10, 8.5mm width in 14kt yellow gold
It is available in white or yellow 14kt or 18kt as well as platinum. Allow four weeks for 14kt and 6-8 weeks for 18kt or platinum. It is only available in the two tone version. The single color band has since been discontinued.
#OGHAM
6.5mm $1,095-1,295.00
Size 4.5 to 8.5
Size 9.0 to 12.0
8.5mm $1,495-1,595.00
Size 4.5 to 8.5
Size 9.0 to 12.0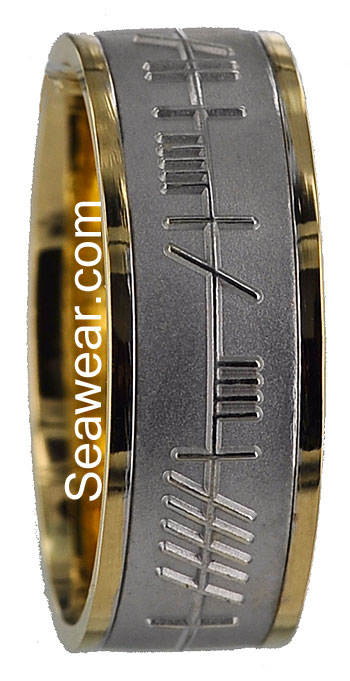 The Ogham scroll writing is raised up against a bead blasted background. The Ogham section is set within a channel of the main ring.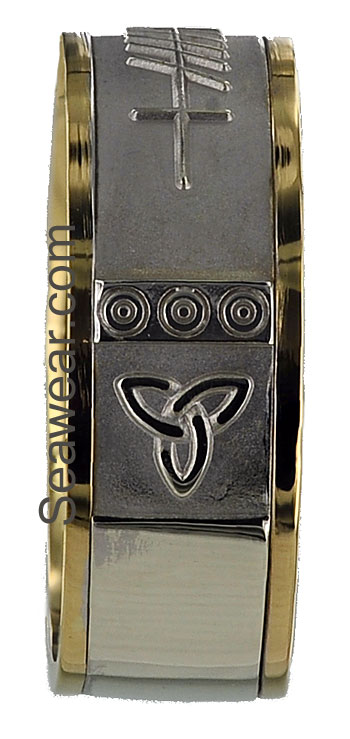 This is the beginning of the panel with the carved inscription. The background that is recessed is a bead blast finish, it is not polished. The raised inscription and edges of the ring are polished.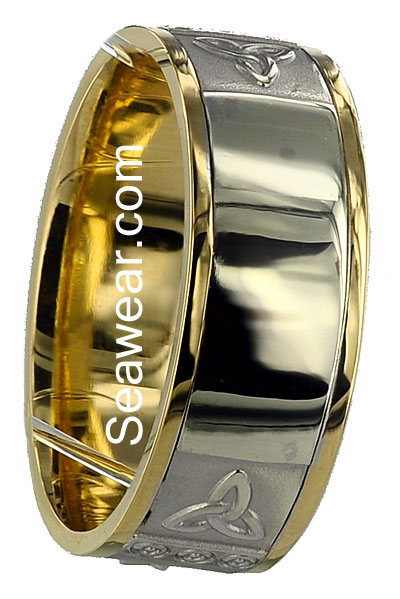 Should the ring every need to be sized, this is where it will be done in the back so as not to break the vow at the face of the ring. His is 5mm wide and hers is 4mm wide.
The rings are only available in two tone. 6.5mm or 8.5mm widths. Be absolutely certain of your size and color choice. There are no returns or exchanges, there is a 40% restocking fee to Ireland. None are stocked, all are made to order.
Use your browser's back button to return or close this if it is a new window